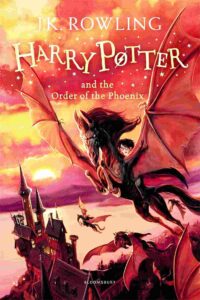 Harry Potter And The Order Of The Phoenix Stephen Fry Audiobook 5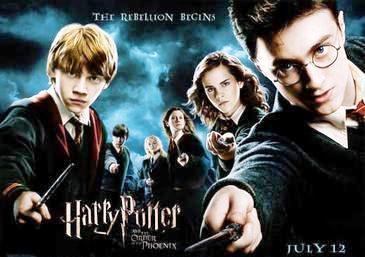 Harry Potter And The Order Of The Phoenix Chapters
Chapter 1: Dudley Demented
Chapter 2: A Peck of Owls
Chapter 3: The Advance Guard
Chapter 4: Number Twelve Grimmauld Place
Chapter 5: The Order of the Phoenix
Chapter 6: The Noble and Most Ancient House of Black
Chapter 7: The Ministry of Magic
Chapter 8: The Hearing
Chapter 9: The Woes of Mrs. Weasley
Chapter 10: Luna Lovegood
Chapter 11: The Sorting Hat's New Song
Chapter 12: Professor Umbridge
Chapter 13: Detention with Dolores
Chapter 14: Percy and Padfoot
Chapter 15: The Hogwarts High Inquisitor
Chapter 16: In The Hog's Head
Chapter 17: Educational Decree Number Twenty-Four
Chapter 18: Dumbledore's Army
Chapter 19: The Lion and the Serpent
Chapter 20: Hagrid's Tale
Chapter 21: The Eye of the Snake
Chapter 22: St Mungo's Hospital for Magical Maladies and Injuries
Chapter 23: Christmas on the Closed Ward
Chapter 24: Occlumency
Chapter 25: The Beetle at Bay
Chapter 26: Seen and Unforeseen
Chapter 27: The Centaur and the Sneak
Chapter 28: Snape's Worst Memory
Chapter 29: Careers Advice
Chapter 30: Grawp
Chapter 31: O.W.L.s
Chapter 32: Out of the Fire
Chapter 33: Fight and Flight
Chapter 34: The Department of Mysteries
Chapter 35: Beyond the Veil
Chapter 36: The Only One He Ever Feared
Chapter 37: The Lost Prophecy
Chapter 38: The Second War Begins
Harry Potter And The Order Of The Phoenix Audiobook – Stephen Fry Details
| | |
| --- | --- |
| Name: | Harry Potter And The Order Of The Phoenix Audiobook |
| Author: | J.K. Rowling |
| Narrator: | Stephen Fry |
| Series: | Harry Potter 7 |
| Length: | 30 hours and 18 minutes |
| Category: | Literature, Children |
| Release Date: | November 20, 2015 |
| Language: | English |
Harry Potter And The Order Of The Phoenix Audiobook – Stephen Fry Description
Harry Potter and the Order of the Phoenix is ​​the fifth episode of JK Rowling in her international bestseller series about a young wizard-orphan named Harry Potter. The "Harry Potter" books have been translated into many languages, sold over 80 million copies, and attracted a large audience, including children and adults. The Order of the Phoenix, released in 2003, ranks first in several bestseller charts and continues to expand Rowling's unique global fan base. The 800-page novel presents the main character Harry Potter, who is entering his fifth year at the Magic School in Hogwarts. At fifteen, Harry faces the problems of teenagers, such as anger and resentment of the authorities, while trying to discover the mysterious return of the most powerful, evil Lord Voldemort. At the end of the story, readers will see Harry transforming from a young confused boy into a strong leader of his classmates and a brave warrior against the dark forces in his world. However, this change would not be without problems, because one of Harry's dearest companions was lost in the final battle.
In the slower building of the main event in this story than in previous books, readers follow Harry's psychological path to a more mature understanding of himself and his place in the community. wizardry. Rowling spends most of the Order of the Phoenix watching Harry's growing frustration, while those who care about her continue to hide valuable information from her in an effort to protect Harry from Voldemort's power. Eventually, with a series of mistakes and victories, Harry learns that he is finally old enough to know the whole truth about his glorious but mysterious past, as well as its meaning, but terrible future.
Harry Potter And The Order Of The Phoenix Characters
There are the following characters in this series mentioned below…
Sirius Black
Dobby
Albus Dumbledore
Dudley Dursley
Petunia Dursley
Vernon Dursley
Cornelius Fudge
Hermione Granger
Rubeus Hagrid
Kreacher
Bellatrix Lestrange
Alastor "Mad-Eye" Moody
Harry Potter and More…
Harry Potter And The Order Of The Phoenix Audiobook – Stephen Fry Author Details
Beginning in 1998 with the publication of her first novel about a young wizard named Harry Potter, JK Rowling embarked on an internationally acclaimed writing career and sense of literature that was unique in the early 21st century. With record sales of each completed episode of Rowling's seven-part series in 2003, Harry Potter and the Order of the Phoenix, more than eight million copies have been sold in the United States alone. As the publishers translated the series into sixty-one languages ​​in two hundred different countries, fans flock around the world to pre-order and collect the remaining books in the series. watch "Harry Potter" movies, which made Rowling not only richer than the Queen of England but also a worldwide event.
JK Rowling was born in Chipping Sodbury near Bristol, England on July 31, 1965. She later adopted the middle initial letter K in honor of her favorite grandmother Kathleen. Rowling was educated at the University of Exeter which was home to England, France, Portugal, and Scotland. The names E. Nesbit, Paul Gallico, and C. S. Lewis like his literary influences, the former teacher always knew he could be a writer. As in the famous story, he came up with the idea for Harry Potter while riding a train and wrote the first novel while his daughter was asleep. Rowling lived a virtuous life writing Harry Potter and the Philosopher's Stone, whose primary purpose was to publish herself, and she never dared to dream of the praise she would receive. Despite the remarkable success of the series, Rowling was rejected by several publishers before receiving a contract from Bloomsbury in the United Kingdom and Scholastic in the United States. Rowling's other titles in the "Harry Potter" series include Harry Potter and the Philosopher's Stone (American edition; British edition called Harry Potter and the Philosopher's Stone), Harry Potter and the Chamber of Secrets, Harry Potter and the Prisoner of Azkaban, Harry Potter and the Goblet of Fire and Harry Potter and the Half-Blood Prince. In addition to its popularity, each edition of Rowling has also received critical acclaim. He has been awarded several prestigious literary awards, including the British Book Award for Children's Book of the Year, the Hugo Award, the Whitbread Award for Best Children's Book, and several consecutive Smarties Prizes.
Rowling has lived in Scotland with her husband and three children since 2005.
Harry Potter And The Order Of The Phoenix Audiobook – Stephen Fry Summary
Now in his fifth year at Hogwarts, Harry (Daniel Radcliffe) learns that many professional members do not know the truth about his encounter with Lord Voldemort. Cornelius Fudge, the Minister of Magic, is appointing his idiot, Dolores Umbridge, as Professor of Defense Against the Dark Arts, for fear that Professor Dumbledore will take his position. But his teaching is flawless and his approach is brutal, so Harry supports a group of students to protect the school against extreme violence.
Harry Potter And The Order Of The Phoenix Audiobook – Stephen Fry Quotes
"Indifference and neglect often do much more damage than outright dislike."
"Just because you have the emotional range of a teaspoon doesn't mean we all have."
"You know, Minister, I disagree with Dumbledore on many counts…but you cannot deny he's got style…"
Harry Potter And The Order Of The Phoenix Audiobook – Stephen Fry Reviews
It required a significant stretch of time to finish this book recording however from here Rowling has begun bringing this book into a more obscure side. Hogwarts meets a bad dream in form of teacher Umbridge never have I detested a fictitious person more than I loathed her inquisitive to see whether she shows up. This book has twisted marginally towards the person advancement side than the plot. Great to see Harry and his mates managing a few additional grown-up issues and Neville acquiring a few nerves 😂. Extremely grasping book uniquely the last couple of parts, incredibly described by Stephen Fry in a general one more exceptional version by JK Rowling.
Listen Free Harry Potter And The Order Of The Phoenix Audiobook – Stephen Fry PlayList
Track 01 – Dudley Demented
Track 02 – A Peck of Owls
Track 03 – The Advance Guard
Track 04 – Number Twelve Grimmauld Place
Track 05 – The Order of the Phoenix
Track 06 – The Noble and Most Ancient House of Black
Track 08 – The Hearing
Track 09 – The Woes of Mrs. Weasley
Track 10 – Luna Lovegood
Track 11 – The Sorting Hat's New Song
Track 12 – Professor Umbridge
Track 13 – Detention With Dolores
Track 14 – Percy and Padfoot
Track 15 – The Hogwarts High Inquisitor
Track 16 -In The Hog's Head
Track 17 – Educational Decree Number Twenty-Four
Track 18 – Dumbledore's Army
Track 19 – The Lion and the Serpent
Track 20 – Hagrid's Tale
Track 21 – The Eye of the Snake
Track 22 – St. Mungo's Hospital for Magical Maladies and Injuries
Track 23 – Christmas on the Closed Ward
Track 24 – Occlumency
Track 25 – The Beetle at Bay
Track 26 – Seen and Unforeseen
Track 27 – The Centaur and the Sneak
Track 28 – Snape's Worst Memory
Track 29 – Career Advice
Track 30 – Grawp
Track 31 – O.W.L.S
Track 32 – Out of the Fire
Track 33 – Fight and Flight
Track 34 – The Department of Mysteries
Track 35 – Beyond the Veil
Track 36 – The Only One He Ever Feared
Track 37 – The Lost Prophecy
Track 38 – The Second War Begins
Harry Potter And The Order Of The Phoenix Audiobook – Stephen Fry Player
Keep calm, and enjoy Harry Potter Audiobook 5, read by Stephen Fry…
Harry Potter And The Order Of The Phoenix Audiobook – Stephen Fry Series
Harry Potter and the Sorcerer's Stone Stephen Fry Audiobook 1
Harry Potter and the Chamber of Secrets Stephen Fry Audiobook 2
Harry Potter and the Prisoner of Azkaban Stephen Fry Audiobook 3
Harry Potter and the Goblet of Fire Stephen Fry Audiobook 4
Harry Potter and the Order of the Phoenix Stephen Fry Audiobook 5
Harry Potter and the Half Blood Prince Stephen Fry Audiobook 6
Harry Potter and the Deathly Hallows Stephen Fry Audiobook 7
Search Results for Keywords Harry Potter And The Order Of The Phoenix Stephen Fry Audiobook
order of the phoenix audiobook
harry potter and the order of the phoenix audiobook
harry potter order of the phoenix audiobook
harry potter and the order of the phoenix audio
harry potter and the order of the phoenix stephen fry
harry potter and the order of the phoenix audiobook youtube
stephen fry order of the phoenix
harry potter and the order of the phoenix audiobook free
harry potter book 5 audiobook
harry potter audiobook stephen fry order of the phoenix
order of the phoenix audiobook free
harry potter order of the phoenix audio
order of the phoenix audiobook youtube
harry potter order of the phoenix audiobook stephen fry free
harry potter and the order of the phoenix audiobook spotify
harry potter order of the phoenix audio book
order of the phoenix audio
harry potter and the order of the phoenix audiobook soundcloud
harry potter order of the phoenix audiobook youtube
harry potter and the order of the phoenix audiobook online
stephen fry harry potter order of the phoenix
order of the phoenix audiobook free online
harry potter order of the phoenix audiobook stephen fry
order of the phoenix audiobook stephen fry
harry potter and the order of the phoenix book audiobook
harry potter and the order of the phoenix audible
harry potter order of the phoenix audiobook free